About
SkySchool is Europe's leading Paramotor Training school and is run by a group of highly experienced instructors who are passionate about flying. SkySchool originated in 2002 as the official Parajet training school running Paramotor Training courses in Wiltshire and Cyprus. Alex Ledger started managing the company in 2005 and relocated the school to Spain in 2006. In 2016 SkySchool moved to Italy, where we now operate in the Spring and Autumn, while continuing to provide training in Wiltshire during the Summer. Due to high demand we returned to Spain in 2018, this time to Malaga, to run courses in the Spring and Autumn. For further information about our Courses, Kit or Adventures contact us.

The Team
Alex Ledger - Master Instructor, Tandem Pilot & MD
Alex is a highly experienced Paramotor Instructor and the Founder of APPI PPG, the International Paramotor Association. Over the years he has been involved in several interesting projects, namely Flying for Heroes, Paramotoring the length of the UK and the BBC documentary 'Extreme Wales with Richard Parks'. In 2017 he Co-Founded SkyOps Executive to set new Flying Schools and Tandem Centres, run SkyWeek Expeditions and more. Alex is a passionate Acro Paraglider Pilot, Mountaineer, Snowboarder, Climber, Skydiver and Trail Runner. You can discover more here: 'Stories from the Sky' and Facebook.
Tel: +44 (0) 7747 097 527
Email: info at skyschooluk.com
Zebur Mercan - Master Instructor & Tandem Pilot
Zebur has been flying Paragliders and Paramotors since 1999 and is a highly experienced pilot. Originally from Turkey, Zebur now lives in Scotland. In 2013 he sat an APPI PPG Instructor course and attained the Instructor license. He is now an APPI PPG Master Instructor and runs SkySchool's courses in the UK and Italy as the CFI. He is also an APPI ParaTrike Master Instructor and responsible for running the bespoke ParaTrike courses that we offer.
Tel: + 44 (0) 7932 277332
Email: zebur.mercan at gmail.com
Rob Furnival - Assistant Instructor & Airfield Manager
Rob learnt to Paraglide in Chamonix, France in 2002 and sat a Paramotoring course with Alex in Cyprus in 2005. He was originally a farmer in Shropshire where he ran a successful water bottling business. Rob has been working for SkySchool since 2007 as an Assistant Instructor and Airfield Manager. He is also an accomplished musician, cricketer and tennis player, as well as a very capable cook!
Tel: +44 (0) 7932 436 795
Email: robfurnival at gmail.com
James Cole - Instructor & Tandem Pilot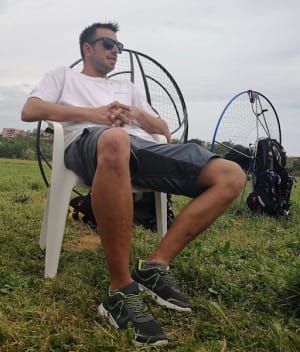 James sat a course with us in Italy in September 2016 and never left! Having been originally brought up in Spain and New Zealand he is a man of many talents, including perfect Spanish and very useful engineering skills. He is now a fully qualified APPI PPG Instructor and helps run the school in both Italy and the UK. He is currently training to become an APPI ParaTrike Tandem Pilot while continuing to further develop his Paramotoring skills. If you ever need a deal made or a problem solved, James is your man!
Tel: +64 210 354 102
Email: jamesnewemail12 at gmail.com

Ricardo Maciel - Master Instructor & Tandem Pilot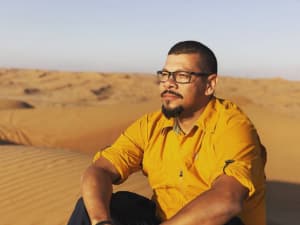 Ricardo is a highly experienced APPI PPG & ParaTrike Master Instructor. Originally from Brazil, where he used to run his own Paramotor School, Ricardo joined SkySchool UK in June 2018 having helped set up SkySchool India the year before. Ricardo also competed in the 2018 World Championships in Thailand as a ParaTrike Pilot. When not instructing with SkySchool he works for SkyOps running SkyWeek Trips and setting up new Paramotor Schools and Tandem Centres around the world.
Tel: +44 7383 683589
Email: ricardo at skyopsx.com

Daniel Kaye - Assistant Manager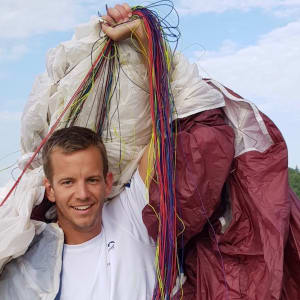 Daniel has been around the SkySchool Team since 2017 and made the decision to hand in his notice as an Estate Agent in Birmingham in August 2018. He is now the Assistant Manager and responsible for overseeing the day to day running of SkySchool in Italy, Spain and the UK. Having caught the flying bug he is rapidly becoming a very competent Paramotor Pilot and hopes to progress on to Assistant Instructor level soon. He is also a passionate open water swimmer.
Tel: +44 7568 135820
Email: skyschooldaniel at gmail.com

Charlotte Ledger - SkySchool Secretary
Charlotte is Alex's sister and runs the SkySchool office near Banbury, Oxfordshire. She first started working as a photographer for SkySchool in Cyprus in 2005 when she visited Alex after leaving school. In 2008 she visited SkySchool in Spain where she had her first Tandem ParaTrike flight and Skydive, giving her an idea of what all the fuss is about! Since then she has travelled around the world working in the Polo industry. She now lives with her daughter Emilia in Warwickshire and when not keeping on top of SkySchool admin, pursues her passion for acting on stage.
Tel: +44 (0) 7530 102708