SWCP Challenge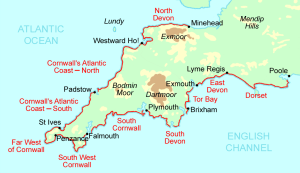 This summer SkySchool MD Alex Ledger and Adventurer George Bullard are attempting to run the South West Coast Path, England's longest National Trail. They aim to complete the 630 mile route in just over a month, starting in Minehead, Somerset on 10th June and finishing in Poole Harbour, Dorset hopefully around the 16th of July. En route a team of SkySchool students, all of whom met through paramotoring, will be driving a couple of campervans packed full of paramotors and other adventure sports equipment, allowing them to stop off to take advantage of whatever the weather throws at them. They are raising funds for three different charities while taking part in this homegrown adventure. To make a donation click here.
Get Involved
Anyone and everyone are invited to get involved for some socially distanced adventuring, whether that's to run, fly or just to say hi. The only request is a donation to the charities we are raising money for. To keep up to date with the project follow SkySchool and George Bullard on Instagram and subscribe to the SkySchool YouTube Channel for the weekly vlog we will be releasing during the trip. You can subscribe to the WhatsApp Group where we will be posting daily updates here.
Alex & George: Runners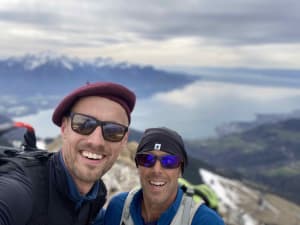 When not flying Alex is usually out trail running. He has completed a variety of different endurance challenges over the years but nothing like this! George is an explorer and a highly experienced endurance athlete, having completed several world record-breaking Expeditions. They met on the inaugural IGO Adventure Race in Norway in 2015, during which Alex taught George how to paraglide. This led to him learning how to paramotor with SkySchool a few years later and he is now an experienced pilot. They have both been fortunate enough to spend the winter in the Alps, which has been the ideal training ground for this challenge.
Alex: 07747 097 527
George: ‭07766 832 030‬
Oscar Manville-Hales: Media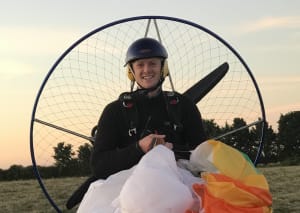 Oscar is in charge of all Media content and is an experienced filmmaker. He learnt how to paramotor with SkySchool in June 2020 and has been producing content for us since. He has now set up his own Production Company, Farr Films, which will be releasing a regular vlog on SkySchool's YouTube Channel as well as managing all Social Media and Branded Content before, during and after the trip. He is also a passionate surfer and plans to take advantage of the good surf spots along the route while waiting for the runners to arrive.
Oscar: 07988 223 731
Jamie Campbell: Charities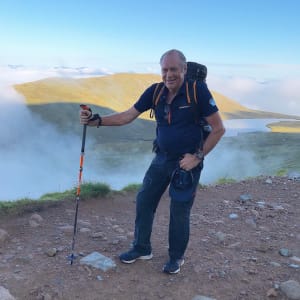 Jamie is responsible for ensuring the charities we are raising funds for are represented appropriately. He learnt how to paramotor with SkySchool in 2013. He has subsequently been on nearly every single SkySchool course and trip since! He is an experienced paramotor and paraglider pilot, as well as a passionate skier. He aims to make up for the disappointment of his cancelled ski season in the Alps by doing as much flying as possible while using his Military efficiency to support the team throughout the challenge. He also cooks a mean steak!
Jamie: 07792 748 554
Toby Drax: Communities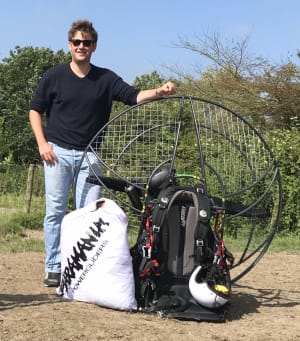 Toby is responsible for liaising with the paramotoring, trail running, climbing, kayaking and surfing communities who we are inviting to join us during the challenge. Please contact him on WhatsApp to confirm where we will be and when. Toby first did a tandem flight with Alex in Dorset in 2012, he then learnt how to Paramotor in 2015. He has joined us on several SkyWeek Trips since and regularly helps out with teaching new students in the school. As the driver of the campervan with all of the kit, he has possibly the most important job of them all, which is to ensure the team have fully fuelled paramotors to fly when conditions allow.
Toby: ‭07979 693 719‬
Charities
The SWCP Team will be raising funds for 5 different charities and you can make a donation click here. Alex has chosen to raise funds for Friends of Cornwall SSAFA, the Armed Forces Charity. George has chosen to raise funds for the Brains Trust in support of close friend suffering from brain cancer. We will also be raising funds for the SWCP Association, which looks after the trail. If you have any questions regarding the charities we are fund raising for contact us.

Sponsors
The SWCP Challenge is sponsored by four amazing brands:
Outdoor Active is Europe's largest Outdoor platform and their app is the ideal tool for the team to plan the route, navigate along the correct trails and record their track. They also have a great feature known as the Buddy Beacon, which will allow the support team to know exactly where Alex and George are at all times.
Breitling are providing us with two 'Endurance Pro' watches and we will be producing branded content for them throughout the trip. They are aptly named when you consider this type of challenge!
Adidas need no introduction. They have provided both the runners and the support team with trail running shoes and outdoor clothing for the duration of the trip.
Parajet are the world's leading Paramotor manufacturers and have been working with SkySchool since it's inception. They have been extremely generous by providing us with both financial support and equipment to ensure we can live by our rule of flying when it's flyable!
SkySchool is also sponsoring the SWCP Challenge. Our goal is to fly or run with as many people as possible. Alex developed his passion for trail running as an alternative to flying when the weather wasn't playing ball. When you like being free in the great outdoors trail running is a fantastic alternative. To discover more contact us.