Kicking Off 2019 Paramotoring Season
We've now kicked off the 2019 European season down in Malaga, Spain where we are running 2 weeks of courses followed by SkyWeek Spain. We've also launched a new YouTube series called "A Week in the Life of SkySchool", which showcases what our range of eclectic students get up to with us each week. You can visit our Paramotoring YouTube Channel to watch the first episode and, if you like it, make sure you subscribe to our SkySchool Channel.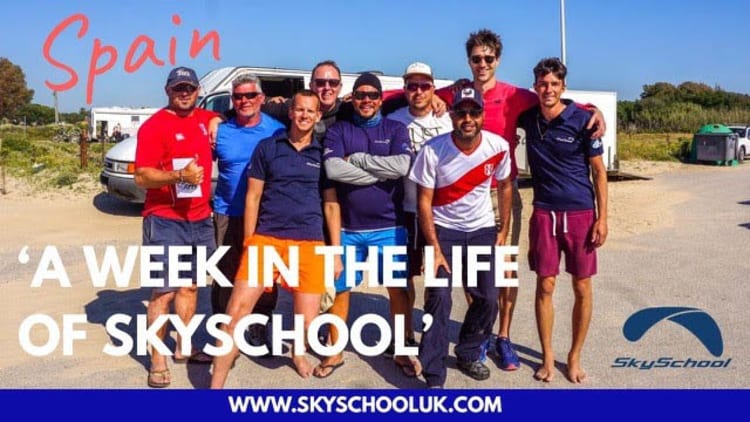 After SkyWeek Spain we are heading to Italy for 6 weeks where courses are pretty much fully booked! However slots still remain on SkyWeek Italy from 16th - 23rd June and you can reserve your slot by contacting Ed on info@skyopsx.com.
The UK Paramotoring Courses are also rapidly filling up, with 4 weeks of training taking place in Mere, Wiltshire from 29th June - 25th July and a further 4 weeks near Banbury, Oxfordshire from 3rd - 29th August. Dan is the man to contact to reserve your preferred slot before its too late and he can be contacted on info@skyopsx.com.

In between the Wiltshire and Oxfordshire courses from 26th July - 2nd August we are running SkyWeek D Day, something we are really looking forward to as we've not flown over the Normandy beaches for a long time! We then wrap up the European SkyWeek season with SkyWeek France from 30th August - 6th September before a further 4 weeks of training in Italy!
For those that missed it check out the Acro Paragliding Film with Jack Pimblett we made in Chamonix before heading down to Malaga. It was a lot of fun to make!
In the meantime Blue Skies and Safe Landings…