Completing the SWCP Challenge 2021
I discovered the SWCP in 2010 when I ran my first Ultra Marathon from Lulworth Cove to Poole Harbour. As I sat, completely knackered, underneath the SWCP marker at the end of Studland Beach my running partner told me the trail was 630 mile long and went all the way to Minehead. This was the spark that inspired me, 11 years later, to make a plan to run it. There was only one person I knew who would be up for such a challenge and that was George Bullard. Unsurprisingly he said yes immediately before asking 'what exactly is the SWCP?!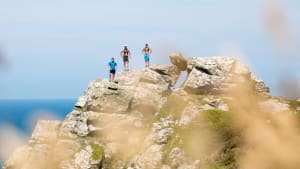 Ironically it was Covid that made the challenge a possibility because we would normally be busy adventuring around the world. We therefore set to task with raising not only some sponsorship but also a support team. Due to our mutual passion for flying we invited two fellow Paramotor pilots, Jamie Campbell and Toby Drax, to take care of the logistics on the agreement that when the weather allowed we would all go flying together.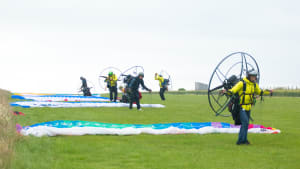 The subsequent 5 weeks from 10th June to 17th July turned out to be an amazing adventure. The weather was, on the whole, extremely kind to us. It was a great experience being able to fly over the section of the SWCP that we had just run or were about to run. The route itself is so varied and beautiful that I can't wait to return for many years to come.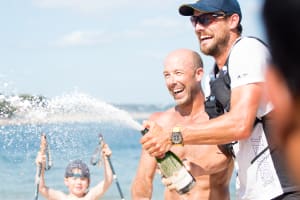 It was not without it's inevitable challenges, namely injuries, however thanks to our fantastic supporters we managed to finish the run in 37 days having taken 6 rest days. In the process we raised more than £15,000 which will be split between the SWCP Association, The Brains Trust and SSAFA - Friends of Cornwall.