What SkySchool get up to during the Winter Months?!
We are often asked what SkySchool get up to during the Winter months when not running Paramotor Courses or Trips in Europe. The answer is, quite a lot...
Ever since Alex started SkySchool in 2005 he has escaped the UK during the winter months. At first it was to fly in new and exciting locations, predominantly in South America and Asia, however in 2009 he founded APPI PPG. This led to him to running Instructor Workshops in more than 10 different countries around the world. During these workshops he met Ricardo, Zeb and Rushi, some of the key members of the current SkySchool Team.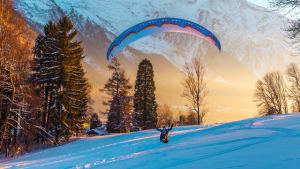 The development of the SkyWeek concept
In 2016 Alex and Zeb helped set up a new Paramotor school in Oman. It was here that we first developed the SkyWeek concept, flying along the rugged Omani coastline and amongst the dunes in the seemingly endless desert. The trips turned out to be great experiences for everyone involved but sadly they were too good to be true as the authorities ended up restricting Paramotor activity throughout the country.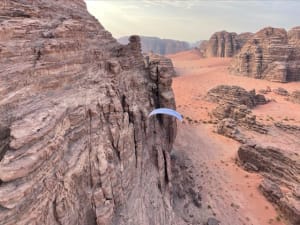 In 2017 Alex set up a new company, SkyOps Executive, which was designed to set up new centres and run B2B projects. It started with a new Tandem ParaTriking Centre near Jaipur, India, run by Ricardo, followed by SkySchool UAE, run by Zeb and Rushi. In November 2021 Alex ran a pioneering Electric Paramotor Expedition in Saudi Arabia's new region of NEOM with Author and TV Adventurer Levison Wood. Sadly the Covid pandemic meant that we had to shut both SkyOps and SkySchool UAE in 2021. Since then Alex has taken on the responsibility of running the B2B projects through SkySchool, focusing predominantly on the Middle East. We have some interesting projects developing at the moment and hope to share more information about them soon.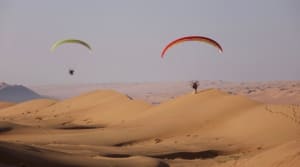 What do SkySchool get up to in their free time?
When not working for SkySchool the team make the most of their free time to pursue their various passions. Alex is an avid Acro Paraglider Pilot and Splitboarder, which is why he spends his winters in Chamonix, the Adventure Sports capital of the world. Zeb is a passionate Kitesurfer and spends his winters in the Philippines with his girlfriend Kat who is an ex Kitesurfing champion. Ricardo tends to return to Brazil each winter to prepare the way for the SkyWeek Trips that he runs north of Rio de Janeiro. This winter Rushi decided to remain in the UK to sit his CPL course but will soon return to India to set up his new Paramotor centre there. Finally, Dan, Pete and Bruce have all spent their winters in the UK, which is why the 2023 season can't come soon enough for them! Either way we all enjoy the downtime that winter offers us but we can't wait to get started in Spain in March, followed by Brazil in April and then the UK in May. Bring it on…