Paramotoring Over Brazil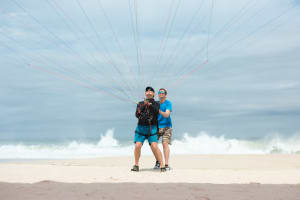 We have been trying to run SkyWeek Paramotoring trips for qualified pilots in Brazil for a while but this has been extremely hard in the last two years for obvious reasons. However with the relaxation of travel restrictions we jumped on the opportunity and with only two months notice managed to fully book the trip, which ran from 1st - 10th April.
To pull something like this off local knowledge and contacts are invaluable, which is why Brazilian born Instructor Ricardo Maciel was the perfect person to run the trip. He was joined by Instructor Dan Kaye, Camera Man Oscar Manville-Hales and longstanding Instructor Rob Furnival, who has been around SkySchool since 2005.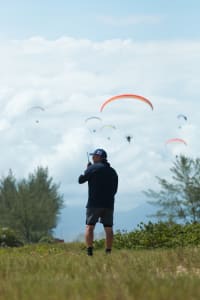 The Team flew into Rio de Janeiro before heading East along the coast to the Paramotor paradise that is Saquarema. After a day of rest, recuperation and equipment phaff, the flying began and basically didn't stop until 9 days later! The reason Saquarema is so good is because of the seemingly endless golden beaches and the consistent on shore breeze, allowing you to fly all day long. By the end of the trip all of the pilots were literally 'flown out', having never done as much flying in their life. All of them improved their skills and knowledge while also having an experience of a lifetime. Sadly the conditions did not allow them to fly over the Christ Redeemer statue in Rio but that's something to return for on next year's SkyWeek Brazil trip.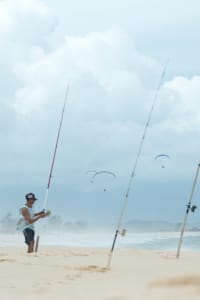 After the trip, the majority of the Pilots packed up their kit and returned home. However, Ricardo and Oscar remained in Brazil for the Paramotor World Championships. Ricardo was one of the managers of the event and Oscar was the official cameraman and photographer for Vittorazi, the manufacturer of the best Paramotor engines on the market. The timing could therefore not have been better!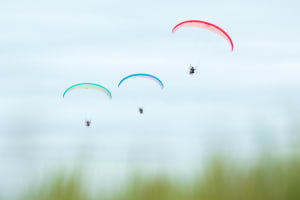 Watch this space for our 2023 dates as we plan to run two SkyWeek Brazil trips next year. To register your interest contact us on: info@skyschooluk.com