Jubilee PPG Trip
During the the Queen's Jubilee Bank Holiday SkySchool MD Alex Ledger and CFI Zebur Mercan made the most of some fantastic flying conditions to fly 257km from Sherborne in Dorset to Lands End in Cornwall.
Alex and Zeb had been in Dorset for 2 weeks running some very successful private Paramotor Courses. They had originally planned to return back to SkySchool HQ at Hinton in the Hedges airfield after the course however the weather forecast suggested a unique opportunity to complete an epic PPG trip. Alex had been given a BGD Blizzard and a challenge like this seemed the best way to properly 'Air Test' their new wing.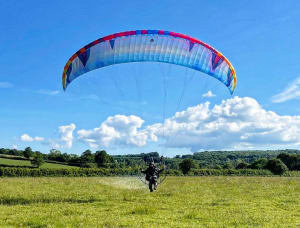 When they woke up at 5am on the morning of Thursday 2nd June the forecast was bang on, which made a change, with nil wind on the ground and a nice 10k South Easterly at 1000ft. After the usual kit phaff Alex and Zeb took off at 06:15. The heavy dew and the extra weight of a fully fuelled Parajet Maverick, a litre of oil, food, water and a spare 5 litre fuel tank under the seat made the nil wind take off quite a challenge but once airborne considerably increased the speed of the glider.
Their first flight lasted 1 hour 50 minutes during which they flew 100km from Sherborne to Okehampton with an average ground speed of 56kph. They landed in a field next to a fuel station and after a quick stop to de-thaw and refuel they were on their way again. Their 2nd flight was considerably shorter as they met up with the MP for Plymouth Johnny Mercer, an ex SkySchool student, and his wife Felicity in a field just the other side of the Tamar river. This meant they had officially arrived in Cornwall, which ironically was Zeb's first time in this stunning county. After a quick refuelling stop followed by a 45 minute flight we landed at Bodmin Airfield, where they took on more fuel as well some dry socks from Johnny and his wife!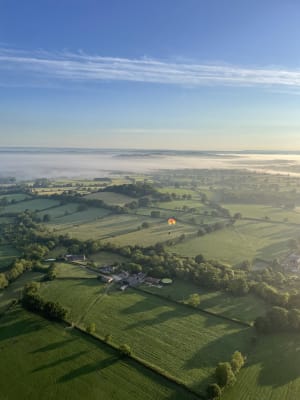 The fourth and final flight lasted 1 hour 45 mins during which they covered 90km. Alex recalled that it was amazing to be able to see both the North and South coast at the same time and very satisfying to fly past all of the traffic on the A30. The final 30 minutes of the flight involved some pretty strong thermals and therefore some turbulence however the BGD Blizzard, which Alex flew with trimmers out and speed bar on the whole way, dealt with this fantastically well without any collapses. They were treated to some fantastic views of St Michael's Mount, as well as a brief period of calm conditions while flying over the sea, before a turbulent final 10 minutes from Penzance to Lands End during which they reached a ground speed of 75kph.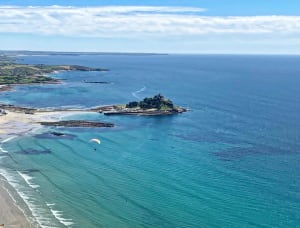 They had arranged to meet ex SkySchool student Patrick McWilliam at Lands End and after a challenging landing in strong winds they quickly broke down the kit, somehow packed it into Patrick's Peugeot 207 and then drove back to his house outside Newlyn for a celebratory cup of tea. The next challenge was how to get back to Dorset!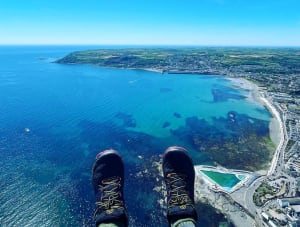 It was clear that the wind was too strong for them to fly back so they decided to take the train from Penzance to Exeter. It was never going to be easy persuading the ticket collector to let them on with the Paramotors so they covered them in black plastic bags and by some miracle were allowed aboard the train.
After the obligatory bottle of Champagne and some well earned rest they were met in Exeter by yet another ex SkySchool student, Barry McKenna, who treated them to a fantastic meal, a few too many bottles of port and a bed for the night.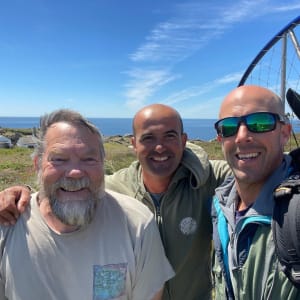 The following morning the weather gods were smiling upon them once again and they managed to fly all the way back to where they had started in Dorset the day before. It was an excellent trip, made possible by the support of our ex students, and the ideal way to celebrate the Queen's Platinum Jubilee.