End of Season Spot Landing Competition and BBQ
The 2022 UK season consisted of 17 weeks of training, which is a SkySchool record. As usual, we experienced many highs and lows, especially during the unprecedented heatwave which made training very challenging but also brought some amazing flying conditions very early and late in the day. On the whole, the season was a huge success with many students persevering with the typically variable UK weather and attaining their APPI PPG Pilot license.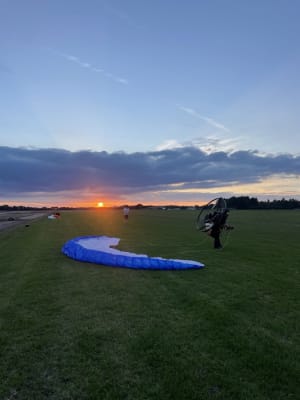 The season officially ended on Thursday 8th September however we decided to continue teaching over the weekend of 10/11th September. The weather was extremely kind to us throughout Saturday 10th September which allowed us to get several First Solo flights completed as well as a few more flights under the belts of other students. At the same time, we ran a Spot Landing Competition for qualified pilots, this was overseen by APPI PPG Assistant Instructor Pete Trott and ex-SkySchool student Jack Rose. Approximately 20 pilots took part in the competition and as expected it was a mixed bag of results however it was good to see everyone giving it a go as spot landing is technically quite challenging.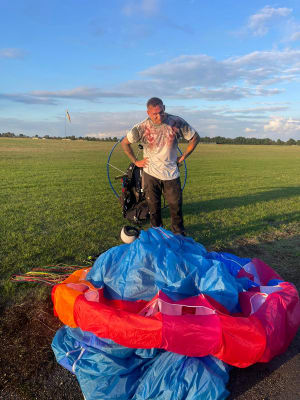 In total, we had more than 75 guests for the BBQ and it was great seeing some old faces, some of whom had sat courses with us as long ago as 2007. As usual Ricardo's Brazilian-style meat went down as an absolute treat and everyone was extremely well-fed. During the evening we handed out some prizes for the Spot Landing Competition, won by Fred Morby who had only started flying in May, and raised a glass to the passing of The Queen. Fortunately, it didn't get too messy as the forecast suggested it was going to be flyable the following day so everyone was on good behaviour and had an early night's sleep!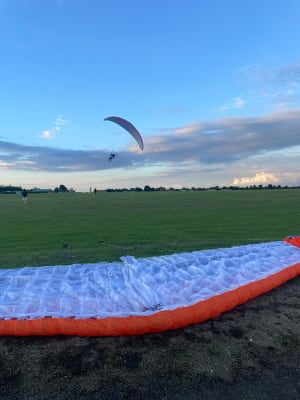 Spot Landing Courses 2023:
Sadly the fog didn't lift on Sunday so we spent the day clearing up the BBQ and packing up for the forthcoming European Autumn season in Portugal and Spain. The Spot Landing Competition and the BBQ were fantastic ways to round off a great season in the UK. We will be back running courses at Hinton in the Hedges Airfield in June, July and August 2023 however before that we plan to be in Spain, which is something new for us. Keep an eye out for our 2023 dates by joining our WhatsApp News group and see you next year!