2022 Paramotoring Season Round Up
Our 2022 season has finally come to an end and what a season it has been!
We started off with our first ever SkyWeek Brazil trip run by Ricardo in April. This proved to be a very popular trip with 12 pilots flying pretty much everyday along the stunning coastline north of Rio de Janeiro. Due to Ricardo's experience they all managed to fly to Brazil and back with their Parajet Mavericks packed down into their Travel Cases. Due to its success we are running two SkyWeek Brazil trips in April 2023.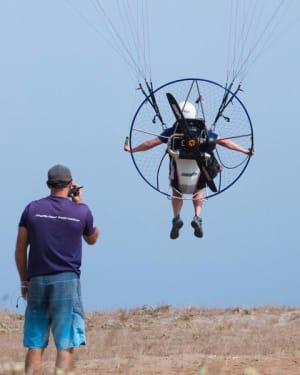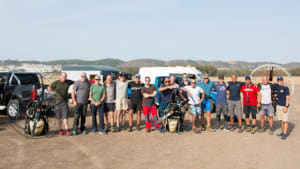 Upon our return to the UK the team, consisting of Ricardo, Zeb, Rushi and Bruce, assembled at Hinton Airfield and proceeded to run 16 weeks of UK training. Every single course was fully booked and we made the most of the weather as and when it presented itself to get a record number of new students in the air. Over the Queen's Jubilee national holiday Alex and Zeb managed to fly 200k from Dorset to Lands End, having spent the previous two weeks running a private Paramotor course in the South West.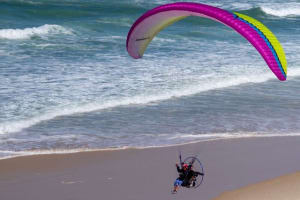 During the unprecedented heatwave in July we were forced to start training as early as 5am and stop by 11am due to the excessive heat. This is something we are used to in Spain but not in the UK! Hopefully the temperatures will return to a more manageable level in 2023.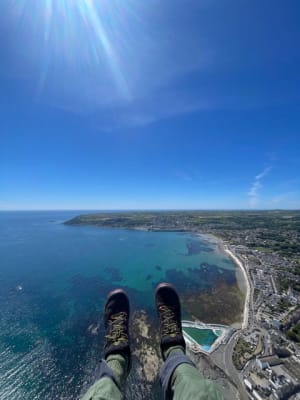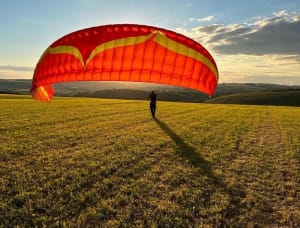 SkyWeek D-Day
Half way through the UK season in early August we ran a trip to France. It was supposed to be SkyWeek D-Day but because of strong winds in northern France Alex decided to head south into the Dordogne and Massif Central regions where we found perfect flying conditions but couldn't escape France's 3rd heatwave of the summer. Fortunately there were plenty of sprinklers to fly through, however the water tasted a bit dodgy according to Bruce!
The UK season culminated with a BBQ at Hinton Airfield and due to the light winds we managed to run our first Accuracy Landing competition. Suffice to say nearly everyone could do with some practise in this department. It was at this point Rushi headed off to support a team of Pilots flying around the UK.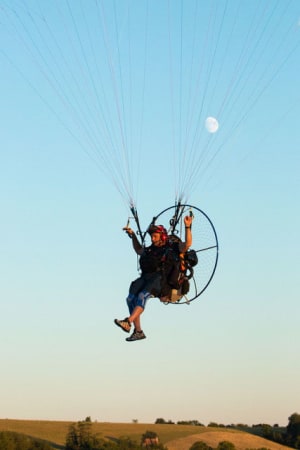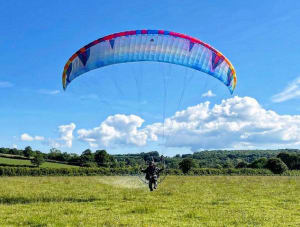 In early September the team, join by Pete, headed down to Portugal for 4 weeks of flying on the seemingly endless beaches. With no time to spare they packed up all of the kit and headed to southern Spain in time to run SkyWeek Spain, which was also a huge success. This was followed by two final weeks of training. During this period Dan returned to the fold and Bruce headed out to Turkey for an SIV course. At the end of the Spain season Ricardo returned to the UK in order to run some Ad Hoc training and Paramotor Maintenance Workshops throughout the winter.


Check out our 2023 Schedule:
We have already released our 2023 schedule and just like 2022 it's going to be absolutely packed! The main difference is that we are going to run courses in Spain in March and May before returning to the UK for 12 weeks. To stay in touch with our news don't forget to join the WhatsApp News Group and for everything else contact us via the website.