2021 Paramotoring Season Round Up
The 2021 season started badly with yet another entire month in Portugal cancelled due to Covid however after 'Operation Equipment Repatriation' we managed to start the season in mid May at Hinton in the Hedges. This year the team consisted of Zeb and Ricardo as the CFI's, assisted by Pete and Bruce, both of whom learnt to fly with us last year, as well as Ottilie, who learnt to fly in 2019. In July we were joined by Rushi, who had worked with us in Dubai during previous winter seasons. As usual the UK climate tested everyone's patience however by taking advantage of the good conditions we managed to get a record number of students not only in the air but also qualified. In September we relocated to Portugal where we ran a SkyWeek Trip followed by 6 weeks of courses and a further 2 weeks in Spain, bringing the 2021 season to a conclusion on the 21st November.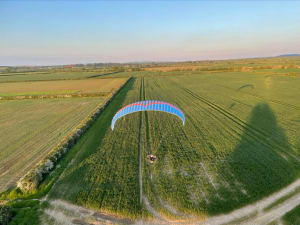 Half way through the season SkySchool MD Alex Ledger and Adventurer George Bullard took on the challenge of running the South West Coast Path from Minehead in Somerset to Poole in Dorset. They were supported by ex students, Toby Drax, Jamie Campbell and cameraman Oscar Manville-Hales. Toby and Jamie drove the support vehicles which included a trailer packed full of Paramotoring and Paragliding equipment. The unwritten rule was that when it was flyable running would be put on hold and everyone would go flying! The weather on the most part was really good, allowing them to do a lot of flying, while being joined by lots of ex students en route. They managed to complete the 630 mile route in 35 days and raised more than £15,000 for charity in the process.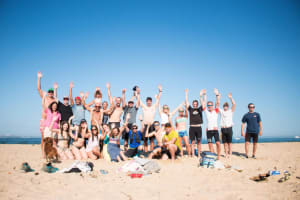 In October Alex led a team consisting of Kester Haynes, George Bullard and Jake Holland on a pioneering Electric Paramotor expedition in the new region of NEOM in Saudi Arabia. The project had been under development for more than 2 years having been delayed by Covid. It featured Author and Adventurer Levison Wood, as well as Mountaineer Raha Moharrak, both of whom had been trained specifically for the project by SkySchool. The expedition was a huge success and a documentary is scheduled to come out in early 2022, so watch this space for more information!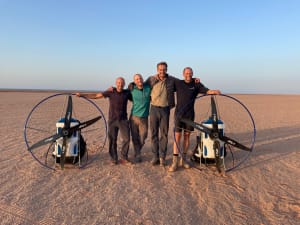 Thanks to the 400+ students who came through the school this year. We will be back in 2022 running courses in the UK from May to September and in Europe from September until November.
Until then, Blue Skies and Safe Landings!
The SkySchool Team