Trips
We believe life is all about having amazing flying experiences! Our SkyWeek Trips are designed to allow qualified Paramotor and ParaTrike Pilots to go on holiday with likeminded people, while developing their flying skills in stunning locations around the world. To book or discover more contact us.


SkyWeek Brazil
After the success of SkyWeek Brazil in 2022 we have decided to run two back to back trips in Rio de Janeiro over the following dates in 2023: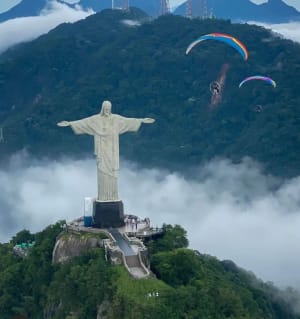 1st - 12th April (Arrive Rio 1st April. Depart Rio 12th April)
12th – 23rd April (Arrive Rio 12th April. Depart Rio 23rd April)
These trips are for qualified Pilots and are run by APPI PPG Master Instructor Ricardo Maciel. They are designed to provide both low air time and experienced pilots the opportunity to develop their skills and knowledge, while flying over some breathtaking scenery and visiting some of the local tourist attractions. If you wish to bring a non flying friend/partner contact us for these prices. The fees include airport transfers, fuel, oil, transportation of pilot and equipment in Brazil, guidance and single hotel accommodation. They do not include flights, food or insurance. To book or discover more contact us.
SkyWeek Brazil Price: £2,495 per person
SkyWeek Brazil Deposit: £995 per person

SkyWeek UK
This will be our first SkyWeek UK and we are going to try something a bit different by staying flexible and improvising around the weather. The dates are:
7th - 14th July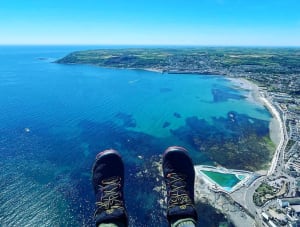 If the forecast for Scotland is good we will head North, visa versa if the forecast is good in Cornwall we will head South West. We will have SkySchool Kit available to rent, as well as two support vehicles and trailers with a limited number of seats available. The trip is also available for those with their own vehicles. Due to the nature of the plan we will be camping in order to remain flexible. If the UK forecast is unfavourable we will simply cross the Channel and turn it into a Skyweek France trip! The fees for this trip will be published in 2023. To register or discover more contact us.
SkyWeek France
Back by popular demand! SkyWeek France has always been the most popular trip, mainly because it is easily accessible, stunningly varied and the weather is usually amazing. The dates are:
1st - 8th September
The trip will follow the same format to previous years, we will depart the UK via ferry and stop off at various flying sites while camping en route in order to remain flexible with the weather. We will have SkySchool Kit available to rent, as well as two support vehicles and trailers with a limited number of seats available. The trip is also available for those with their own vehicles. The fees for this trip will be published in 2023. To register or discover more contact us.

Previous Flying Trips
In October 2022 we ran a very successful SkyWeek Spain Trip in Andalusia, which took in Lake Bornos, Sotogrande and Conil de la Frontera.

In August 2022 we planned to run another D-Day Trip however the weather forecast predicted strong winds so we drove South West into central France where we flew around the stunning Burgundy and Auvergne countryside, which turned it into yet another successful SkyWeek France trip.

In April 2022 we ran our first SkyWeek Brazil trip. It was a huge success, so much so that we plan to run two back to back trips in 2023.

In September 2021 we ran our first SkyWeek Portugal trip. In this fantastic country it is possible to fly along seemingly endless and deserted white sandy beaches all day long.

In September 2020 we ran our fourth SkyWeek France trip, during which we flew 7 days out of 7 in amazing weather in some stunning locations.

In July 2020 we ran another SkyWeek D-Day trip and could not have asked for better weather. We have now been running this trip since 2010.

In October 2019 we organised an SIV course designed for Paramotor pilots with British Acro pilot and SIV Instructor Jack Pimblett.

In September 2019 we ran our third SkyWeek France trip, taking in the Champagne region of Epernay and the stunning Chateaus in Burgundy.

In June 2019 we ran our second SkyWeek Italy trip followed by SkyWeek D-Day in July, which took in the D-Day beaches and other parts of Normandy.

In August 2018 we ran our second SkyWeek France trip, visiting some stunning areas in the Dordogne, Auvergne and Burgundy regions.

In June 2018 we ran our first SkyWeek Italy trip, taking in some stunning parts of Italy before continuing the journey through France on our way back to the UK.

In September 2017 we ran our first SkyWeek trip through France. It turned out to be a huge success and led to us running two SkyWeek Oman trips later in the year.

In September 2016 we ran our first WW1 Battlefield Tour for a group of Paramotor and ParaTrike Pilots around the Somme and Vimy Ridge Battlefields in France.

In June 2007 we ran our very first Paramotor Trip through Spain and France. Filming the trip was Jason Bulley, an ex student, who produced two fantastic films, SkySchool Elevation and SkySchool's Fantastic Flying Machines, both of which bring back great memories.
Faqs
Can Paragliders go anywhere?
Paragliders cannot go anywhere they like. Paraglider and Paramotor Pilots must adhere to Air Law in each country and in most cases avoid restricted airspace.
Can you fly a Paramotor in National Parks?
To Paramotor in National Parks, a Paramotor Pilot will need to request permission from the National Parks Authority in order to fly over any National Park in the UK.
Can you fly over a city in a Paramotor?
In short, no you cannot fly over a city in a Paramotor! In the UK, the law states that an aircraft shall not be flown below such height as would prevent it from making an emergency landing without causing danger to persons or property on the surface in the event of an engine failure. It also states that you shall not fly over any congested area of a city, town or settlement below a height of 1000 feet above the highest fixed object. You must also maintain enough altitude to glide clear of the congested area and land safely in the event of an engine failure.
Can you land a Paramotor anywhere?
No, you cannot land a Paramotor anywhere you like. You should always fly in a way and at a height that allows you to land safely at all times in the event of an engine failure, while adhering to air law. Unless it is an emergency landing, Paramotor Pilots need to receive permission from the landowner when landing as well as taking off.
Can you Paraglide anywhere in the UK?
No, you cannot Paraglide everywhere in the UK! In the UK, Paragliding is overseen by the BHPA and they have negotiated permission from various landowners for qualified BHPA Pilots who are club members to use the flying sites. Once airborne, Paraglider Pilots must adhere to Air Law and avoid restricted airspace. Paramotoring is slightly different in that Pilots tend to negotiate with landowners and secure their permission to take off and land, however yet again they must adhere to Air Law.
Can you Paramotor anywhere?
You cannot Paramotor everywhere in the UK! In the UK, you must first ensure the airspace is unrestricted and then you need to seek landowners' permission. In flight, you need to remain outside of any restricted airspace, otherwise you run the risk of prosecution, a fine and potentially having your equipment confiscated. Furthermore, the CAA may chose to regulate Paramotoring in the UK if too many Pilots continue to break Air Law. It is therefore very important that Paramotor Pilots obey the rules and regulations so we maintain safety and remain unregulated.
Do you need a license to fly a Paramotor?
In the UK, you do not require a license to fly a Paramotor as the CAA has deregulated the sport. In certain other countries, licenses are required and wings must carry a registration number, such as in France. In Switzerland, Paramotoring with a petrol engine is illegal, however, an electric engine is legal.
How far can you Paramotor?
The world distance record for flying a Paramotor the furthest is 1,105km, set by Ramon Morillas in 2007. However, he was flying a modified Paramotor, carrying a lot of extra fuel. The distance a Paramotor can fly is governed by its fuel capacity, the type of wing, the wind speed and its direction.
Where can I go Paragliding?
In the UK, Paragliding sites are controlled by the BHPA and in order to fly from them, you need to be a qualified BHPA Paraglider Pilot and usually a club member.
Where can I go Paramotoring?
In the UK, you can Paramotor from any private land, having received the landowners' permission first, as long as the airspace is unrestricted. The best way to find flying sites is to connect with other local Pilots. In Europe, the rules vary and yet again, we recommend connecting with local Pilots in each location. Due to our extensive experience of Paramotoring in France, Spain, Italy and other countries, we have discovered a lot of great flying sites which we take Pilots to during our SkyWeek Trips. A lot of these flying sites were found by connecting with the local Paramotoring community.
Reviews
Stunning trip across France from the air. Never got more flying time in just one week. Really fun group and superb help from the instructors. Highly recommend Skyschool and SkyWeek!!
Paramotoring along the beaches of Normandy was a pretty insane way to spend a father-son trip, but has left me with some amazing memories. With the help of my Atom 80, my Dad's Moster 185 and spectacular conditions, flying has literally unlocked a new perspective on touring landscapes for us, and provided us with something we can enjoy together. Many thanks go to our flight coordinators and instructors at SkySchool, who pushed our flying to the next level, making us confident with our capabilities and eager to explore new regions around the world.
I did my paramotor course with SkySchool in Italy - it was such a great experience I went back for a SkyWeek through Italy and France. Both these trips have been exceptional flying in really beautiful parts of the world (that have reliable weather, and good food!) On both trips I made some friends for life. The level of instruction is fantastic from all members of the team - and is very well structured and organised. As my introduction to any sort of flying they got me doing things I never expected I'd do, and were there each step of the way. On the ground, their service is flexible and very friendly. They're an amazing group of people. If you're considering getting into this sport - it will change your life. Do it.