Paramotor Kit
SkySchool is more than just a Paramotor School. During the course we provide all of the Equipment, which allows students to Fly before they Buy and benefit from expert advice provided by our team of experienced instructors, thus ensuring each individual buys Equipment that is most suitable for them. This is not possible when buying kit off eBay or without flying first!


When buying your Equipment through SkySchool we provide the following:
Discounts on Equipment Packages, future Courses and Flying Trips

Help with fitting the reserve, setting up and running in your new Paramotor
After Sales Support for 1 Year on any unlikely Warranty Claims

Paramotors and ParaTrikes

SkySchool uses and sells Parajet and Fly Products Paramotors and ParaTrikes. The Parajet range includes the lightweight Maverick, the heavy duty V3 which can be fitted to the Falco Trike, and the versatile Zenith. The Fly Products range includes the lightweight Eclipse and the robust Rider Thrust which can be fitted an assortment of different ParaTrike frames. At SkySchool we only use and sell Vittorazi Paramotor engines as they are the best on the market! The Moster 185+ is suitable for medium to heavyweight pilots weighing between 80kgs and 130kgs, while the Atom 80 is suitable for lightweight pilots weighing between 50kgs and 80kgs. To see the entire range of Paramotors and ParaTrikes we sell, as well as the prices, visit the Paramotor Shop and ParaTrike Shop.


Paragliders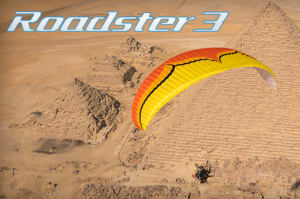 SkySchool uses and sells Ozone, BGD and Niviuk Paragliders. All three companies are renowned for their high quality and attention to detail. We use the Ozone Spark 2 and BGD Magic in the school. We recommend the Ozone Roadster 3 for beginner/intermediate pilots as it is very easy to launch and land, extremely stable in flight and has a good speed range due to the semi reflex shark nose technology. The BGD Luna 2 is also a great semi reflex wing suitable for more experienced pilots. To see the entire range of Paragliders we sell, as well as the prices, visit the Paraglider Shop.

Accessories
SkySchool uses and sells a variety of Paramotoring and Paragliding Accessories including Microavionics and Nvolo helmets with integrated headsets, Gin reserves, Ozone harnesses and a wide range of other paramotoring accessories. To see the entire range of Accessories, as well as the prices, visit the Accessories Shop.

Paramotor Equipment FAQ's
Have a question about our Paramotoring Equipment? The answer should be here in the FAQ section below! If you can't find what you're looking for contact us.
Faqs
What do Paragliders cost?
In the UK, a basic, beginner, non reflex Paraglider, such as an ozone Spark 2 for example, costs approximately 2,000 + VAT. A beginner/intermediate semi reflex wing, such as an Ozone Roadster 3 for example, costs approximately 2,600 ex VAT.
What is the safest Paraglider?
There currently is no single safest Paraglider on the market. However, there are some Paragliders that are more suitable for beginners and intermediates. At SkySchool, we use the Ozone Spark, which is a very easy glider to launch, fly and land. After training, we recommend qualified Pilots buy the Ozone Roadster 3 which is a faster and more dynamic glider. With its shark nose profile it is very easy to launch, even in nil wind, and the semi reflex system allows for a good speed range while making it very solid in flight. It is therefore the ideal glider for those who have recently completed their training.
What is the safest Paramotor?
There currently is no single safest Paramotor on the market as all Paramotors are inherently unsafe when handled incorrectly due to the spinning propeller. However, some Paramotors, such as the Parajet V3, are safer than others due to their robust frame. Never ever start the Paramotor on the ground and instead always start it on your back, as 70% of accidents take place when running the Paramotor on the ground. All of this is covered throughout the course.
Why are Paramotors so expensive?
Paramotoring is still in its infancy as a sport with only a few thousand Pilots flying them in the UK, which means there is not a mass market for the sport. Also a lot of money is spent on developing the correct engines, component parts, wings and accessories, with the majority of the money put back into R&D.
Do I need to buy Equipment before coming on a course and what clothing do I need?
You do not need to buy equipment before coming on a SkySchool Course. We provide all equipment as part of the course fee. This allows us to open up this fantastic sport to more people as opposed to only those who can afford to buy equipment first. It also allows people to 'Fly before they Buy'! When it comes to clothing, we recommend that you bring ankle supporting boots and clothes suitable for being outdoors. It can also be cold when flying, even in hot countries, so bring trousers, a jacket and some lightweight gloves.
How much does a Paramotor cost?
At SkySchool, we only use and sell Parajet Paramotors, fitted with Vittorazi engines, as we believe they are the best in the world. These cost between 5,000 and 6,000 inc VAT depending upon the type of Paramotor and Engine.
Get a Quote
Fill out the form or call us on +44(0)7747 097 527 with your details and we will provide you with a quote that is personalised just for you.