Kit
We provide the following benefits when you buy Equipment through us, as explained in this film:
A free After Sales Service to fit the reserve, attach a free tachometer, break in and tune the engine
One year of Warranty Support to promptly process any claims in the unlikely event of an issue
Fly before you Buy
In order to avoid buying the wrong equipment, we suggest students resist the urge to buy anything before they have flown solo. During the training course each student has the opportunity to test the Equipment that we sell, while also taking advice from our team of highly experience instructors, allowing them to discover which specific Paramotor and Paraglider is most suitable for them. To receive a quote with our Discounted Packages contact us.



Paramotors and ParaTrikes

SkySchool sells Paramotors and ParaTrikes made by Parajet and Fly Products. The Parajet range includes the lightweight Maverick, which is one of the best Paramotor frames on the market. The Fly Products range includes an assortment of different options, from lightweight Paramotors to heavy duty ParaTrikes. At SkySchool we only use and sell Vittorazi engines as they are the best on the market! The Cosmos 300 is the ideal trike engine, the Moster 185+ is suitable for medium to heavyweight Paramotor pilots weighing between 80kgs and 130kgs and the Atom 80 is suitable for lightweight pilots weighing between 50kgs and 80kgs. To see the entire range visit the Paramotor Shop and ParaTrike Shop.


Paragliders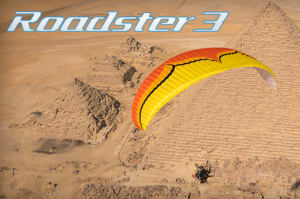 SkySchool uses and sells Ozone, BGD and Niviuk Paragliders. All three companies are renowned for their high quality and attention to detail. We use the Ozone Spark 2 and BGD Magic in the school. We recommend the BGD Magic Motor and Ozone Roadster 3 Paragliders for beginner/intermediate pilots as they are very easy to launch and land, while being extremely stable in flight. The Roadster 3 has a higher speed range due its semi reflex shark nose technology. The BGD Luna 2 is also a great semi reflex wing suitable for more experienced pilots. To see the entire range visit the Paraglider Shop.

Accessories
SkySchool uses and sells a variety of Paramotoring and Paragliding Accessories including Microavionics and Nvolo helmets with integrated headsets, Gin reserves, Ozone harnesses and a wide range of other paramotoring accessories. To see the entire range visit the Accessories Shop.

Paramotor Equipment FAQ's
Have a question about our Paramotoring Equipment? The answer should be here in the FAQ section below! If you can't find what you're looking for contact us.
Faqs
What do Paragliders cost?
In the UK, a basic, beginner, non reflex Paraglider, such as an ozone Spark 2 for example, costs approximately 2,000 + VAT. A beginner/intermediate semi reflex wing, such as an Ozone Roadster 3 for example, costs approximately 2,600 ex VAT.
What is the safest Paraglider?
There currently is no single safest Paraglider on the market. However, there are some Paragliders that are more suitable for beginners and intermediates. At SkySchool, we use the Ozone Spark, which is a very easy glider to launch, fly and land. After training, we recommend qualified Pilots buy the Ozone Roadster 3 which is a faster and more dynamic glider. With its shark nose profile it is very easy to launch, even in nil wind, and the semi reflex system allows for a good speed range while making it very solid in flight. It is therefore the ideal glider for those who have recently completed their training.
What is the safest Paramotor?
There currently is no single safest Paramotor on the market as all Paramotors are inherently unsafe when handled incorrectly due to the spinning propeller. However, some Paramotors, such as the Parajet V3, are safer than others due to their robust frame. Never ever start the Paramotor on the ground and instead always start it on your back, as 70% of accidents take place when running the Paramotor on the ground. All of this is covered throughout the course.
Why are Paramotors so expensive?
Paramotoring is still in its infancy as a sport with only a few thousand Pilots flying them in the UK, which means there is not a mass market for the sport. Also a lot of money is spent on developing the correct engines, component parts, wings and accessories, with the majority of the money put back into R&D.
Do I need to buy Equipment before coming on a course and what clothing do I need?
You do not need to buy equipment before coming on a SkySchool Course. We provide all equipment as part of the course fee. This allows us to open up this fantastic sport to more people as opposed to only those who can afford to buy equipment first. It also allows people to 'Fly before they Buy'! When it comes to clothing, we recommend that you bring ankle supporting boots and clothes suitable for being outdoors. It can also be cold when flying, even in hot countries, so bring trousers, a jacket and some lightweight gloves.
How much does a Paramotor cost?
At SkySchool, we only use and sell Parajet Paramotors, fitted with Vittorazi engines, as we believe they are the best in the world. These cost between 5,000 and 6,000 inc VAT depending upon the type of Paramotor and Engine.
Reviews
First class service
Ecky Boy
-
I ordered a reserve for my paramotor on the 11th August and it arrived 12th August some moments ago. I had previously ordered a reserve in February through a different agent for a Dudek reserve. After waiting 6 months and still not received I cancelled that order. Alex Ledger has been on the ball and efficiently communicative at all points and I can't thank him enough for doing exactly what he said he was going to do. First class service. I have not opened my reserve parcel as yet and so cannot review the reserve itself. Many thanks Alex, absolute leg!
Offered Great Advice on Equipment
Fred Coate
-
Well, I can't recommend skyschool enough, I was on there course last year and I qualified as a ppg pilot. Safety is always drummed into you though out the whole course which just shows you there professionalism . And you just felt in good hands. If at any time you had a question or you needed help with handling the wing the sky school team would make sure they spent time with you until you felt comfortable. What an amazing experience I had , full of fun ,laughs and great instructors , oh also really enjoyed a few beers afterwards around the camp fire, I will definitely go on there advanced course this year. If you are thinking of doing the course I would just say go and do it , you wont be disappointed, After I qualified I was looking around for my flying gear & motor but it is very confusing as a novice and not really knowing what I needed. So I asked skyschool to help and they pointed me in the Wright direction, I would definitely recommend you do this. Good luck and enjoy.
The equipment was top quality
Dean Lemmer
-
From the start of my communication with Ed at Skyschool UAE, I knew I was dealing with a professional, yet personable company. From being able to schedule lessons around my own schedule to being able to complete the course in consecutive training sessions(weather permitting). The cost of the entire course to gain a license was very affordable compared to other schools. All schedules for the next days flying are communicated the day beforehand so there's no disappointment if you arrive at the flying site and there's no one there. First day of training was an introduction to the instructors- Zebulon and Rushi- both very highly competent. The equipment was top quality and a good variety to suit all weights and sizes. Ground handling/kiting is overseen by Rushi with Zeb keeping a very professional eye on the proceedings. It was carried out at the half desert location and at kite beach, when the wind wasn't strong enough in the desert. They are both superb locations. Once I had been seen as competent at kiting, we went to Al Faya hill to practice top to bottom flights in preparation for powered flight. My first powered flight was awesome, radio communication and hand signals were discussed and practiced before the flight. I felt that because of the prior kiting training I was ready for the flight and the flight was a nine event. My training was all well rehearsed and it was a none event apart from being exhilarating. Safety is at the top of the schools list and I can honestly say I have not had any fear or worries during the entire course. Zeb is the flight instructor and just incredible. There is nothing he doesn't know. After 15 flights I was certified to fly. My decision to purchase a motor and wing was easily decided through conversation with Zeb and Ed. I went with the Maverick Moster 185+ and BGD Magic wing. The price which Ed managed to get for me for the engine and wing were so competitive. I was also lucky enough that they had the engine and harness in stock. I went to the flying field to collect the engine and was so pleased to meet Alex Ledger who personally showed me how to assemble the engine, gave my most useful advice and hints and tips on operating it. I would have no hesitation in recommending Skyschool to anyone who is interested in this sport. Safety, professionalism and dedication are the top of their game. Thank you all for an amazing course.
Get a Quote
Fill out the form with your details and we will provide you with a quote that is personalised just for you.