Portugal Paramotor Courses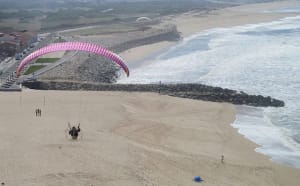 SkySchool operates along the coast near Ferrel in Portugal, which is an ideal place to run Beginner and Intermediate Paramotor courses. When not flying it's possible to learn how to surf! If you can't make it to Portugal then check our UK Paramotoring Courses. The following outlines the course fees, accommodation, food, travel, transport and insurance information. Discounts are available for groups of two or more. To discover more or to make a booking contact us.
Course Fees
1 week Paramotor course with accommodation & breakfast - £1,395 (Deposit £495)
2 week Paramotor course with accommodation & breakfast - £2,295 (Deposit £495)
The course fees include:
All kit, fuel and log books
Single room in a shared self catered bungalow with breakfast
The course fees do not include:
Lunch and Supper
Travel and Transport
Travel Insurance
To reserve your slot and place a deposit contact us


Accommodation and Food
SkySchool students and staff are accommodated on a holiday park near the coast. Each student will have a single room in a shared, self catered bungalow with air conditioning. On Sunday check in is after 3pm and check out no later than 10am. There are several good restaurants within walking distance, as well as a supermarket.


Travel, Transport & Insurance
Lisbon Airport is a 75 minute drive from Ferrel and is very well serviced by most UK and European airports at reasonable prices. We recommend students hire a car in order to not only make your travel from the airport to Ferrel very easy but also to give you more freedom to explore the region when not training. We will connect students together on a WhatsApp group a month or so before the course allowing you to discuss the potential of sharing hire cars. If you don't drive or can't share a hire a car there is a good bus service from Lisboa Sete Rios to Peniché, where we can collect you. We require students sitting a course in Portugal to have their own insurance cover. Sports Cover Direct provide Paramotoring Travel Insurance.

Further Information
Courses start at 09.00 on Monday morning and end on Saturday afternoon. Students should aim to arrive and depart on a Sunday. During the day please bring appropriate footwear (ankle supporting boots are recommended), water, food suncream and suitable clothing for the time of year, including a jacket and trousers as it can get cold while flying. For further information or to make a booking contact us.
Faqs
Is Paramotoring in Portugal fun?
The Portuguese coast is an ideal flying location, both for complete beginners and experienced pilots. The consistent weather conditions, open beaches and stunning views make it one of the best places to fly Paramotors in the world and guratantee everyone will have a fun and enjoyable time, no matter their experience level.
What's it like to Paramotor in Portugal?
Portugal is one of the best locations in the world to fly a Paramotor. The seemingly endless, open beaches are a Paramotor Pilot's dream and the views are absolutely stunning.
Where do you offer Paramotor Training in Portugal?
We run our Paramotor Courses from a variety of training locations on the Portuguese coast between Peniché, which is 1 hour north of Lisbon, as far north as Nazaré, home to the biggest waves in the world.
How easy is it to learn to Paramotor in Portugal?
Portugal is one of the easiest training locations in the world because of the smooth on breeze, the consistent weather, the wide open beaches and the lack of thermals on the coast. This makes it very easy for people to learn how to Paramotor in a short period of time.
How safe is it to Paramotor in Portugal?
It is very safe to learn how to Paramotor in Portugal. The golden rule is to never fly low over the sea. The wide open beaches allow for plenty of space in which to take off, fly and land without having to fly anywhere near the water. The laminar on shore winds, coupled with stable weather, make the Portuguese coast the ideal location to learn how to Paramotor safely.
What is the best place to Paramotor in Portugal?
One of the best flying sites in Portugal is Praia do Bom Sucesso, about 20 minutes north of Ferrel, where it's possible to Paramotor and Paraglide on the beach. Another good site is Praia do Salgado, which is a huge open beach just south of the famous Nazaré, where the world's biggest waves can be found.
How much does it cost to Paramotor in Portugal?
In Portugal, the 1 week Paramotor Course costs £1,345 and the 2 week Paramotoring Course costs £2,295. These prices include all Paramotoring kit, fuel, log books, access to the Online Theory Paramotoring COurse and single accommodation with breakfast.
Where do you operate Paramotoring Courses in Portugal?
In Portugal we run Paramotor Courses from a variety of different sites on the coast about 1 hour north of Lisbon near Ferrel, which is also where we provide accommodation.
Reviews
Just completed a fantastic two-week beginner/intermediate course with SkySchool UK in Portugal
Mark Ferguson
-
Just completed a fantastic two-week beginner/intermediate course with SkySchool UK in Portugal - wow, what an experience! The instructor team - Ricardo, Zeb, Pete and Ottie - did an amazing job pushing us from 'zero to hero' in the time available. We covered vital theory, safety, weather and mechanical issues before ultimately getting up into the air under full instruction and wow, what a ride! Seeing Nazaré beach several hundred feet below while piloting a paramotor is an experience I'll never forget! Highly recommended.
Excellent training and good instructors that are passionate about the sport.
Tom
-
Excellent training and good instructors that are passionate about the sport. I did a week in the UK and in Portugal and would recommend both. Just be prepared for plans to change with the weather. Will be returning for the advanced training.
What an amazing two weeks. From zero to hero!
Hasan B
-
What an amazing two weeks. From zero to hero! These guys are amazing. And I'm now officially a paramotor pilot. My wife booked the course for me for my birthday two years prior to attending, knowing it was something I've always dreamt of doing. Unfortunately I couldn't attend straight away because of covid restrictions. However once the window for Portugal opened up, I jumped straight at the opportunity. After I enrolled, Alex sent out all the Comms via email, mobile and was very responsive. There were no grey areas and everything was on point and clear. I landed in Portugal and made my way to base camp. We were greeted by the instructors, who also live on-site. Once more students arrived, we all went to town for an evening drink/meal. This was great for team bonding because we got to know each other as students and also instructors. Not knowing anything about gliders or paramotors, we were tought everything from ground up. Me being a slow learner wasn't an issue. They take their time explaining the details and never make you feel uncomfortable asking silly questions (thank you Zeb/Ricardo). Training was amazing, you rotate between instructors, and pick up skills from each one. The week we were there, our instructors were Otti, Ricardo, Zeb and Peter. All very experienced and really friendly. I can really go on and on, however without boring everyone of my amazing experience with skyschool. I'd like to take this opportunity to thank ZEB abi, RICARDO, Otti and Peter. Thank you guys for making it fun and pleasurable but also taking care of our safety at all times. I really appreciate the long hours you guys put in and go above and beyond your roles to keep everyone happy. Until our paths cross again, wishing you all many more safe flights. Keep in touch Hasan PS Ricardo I think my BBQ skills are still better than yours
Absolutely loved my time learning to Paramotor in Portugal with Skyschool.
Tom Wickstead
-
Absolutely loved my time learning to Paramotor in Portugal with Skyschool. All the instructors know the sport inside out. It was the most incredible feeling getting up in the air for the first time. Massive thanks to Ricardo, Bruce, Ottie and Pete. Cheers guys!
My first time Paramotoring and the groups I was on the course with were great fun,
Frank W
-
My first time Paramotoring and the groups I was on the course with were great fun, with only one exception. I was on a one week course in Portugal and despite the weather not playing ball we had a blast. Bad weather days were spent in ground training and theory and when the weather was right it was fly fly fly. The crew for the week. Ricardo: A very Brazilian chief instructor with bags of energy, an unerring nose for the weather and a vast swathe of experience. He is stringent on safety and controls all take-off and landings but when noone is in the air is a constant barrage of good humour and a capella solos. Pete: A ground instructor and equipment guru. His gruff manner betrays his routes in the Parachute Regiment (a home for people who can't quite manage the Commando Tests) but his kindness and warm heart is obvious. No-one had more patience with me when I was struggling than this excellent instructor. Cheryl: Professional and calm instructor she would work through any issues with endless positivity. Alex: Only with us for a few days and his main jobs were being in overall charge and looking good without his top on. Both of which he did admirably. Otty: Just in her second year of uni but I can't praise her enough as a teacher. Mature and capable she was patient enough teach even the most difficult of students and her robust sense of humour always shone through. Oscar: Last but not least the cameraman and general morale man. Oscar with his easy personality could put have a smile on our faces in minutes even after the weather stopped flying for the umpteenth time!. All around a great group of people to get to know and I will certainly be haunting them again come the summer.