Equipment
SkySchool uses and sells arguably some of the best Paramotoring Equipment on the market, including Parajet Paramotors, Ozone and Niviuk Paragliders, and a range of Paramotoring Accessories. We will match or beat any other quote on the market, while offering discounted package deals and a range of extra benefits.
SkySchool believes in the personal touch, we therefore provide a bespoke, tailored service to match you with the right Equipment to maximise your Paramotoring experiences while also providing the following benefits:
Kit Deals - Discounted prices on some of the best Paramotoring Equipment - Fill out the 'Get a Quote' Form
After Sales - Run in your Paramotor with us and familiarise yourself on your new Kit - Free of Charge
Warranty Support - In the unlikely case of an issue we handle Warranty Claims on your behalf - Free of Charge
Discounted SkyWeeks - Make the most of your new Equipment by coming on a SkyWeek Trip - Save 10%
To get a quote for the right Equipment at the best prices fill out the 'Get a Quote' form on this page or contact us.
Parajet
Parajet produces a wide range of Paramotors that suit all types of pilot. All Parajet Paramotors are fitted with low hang point harnesses, making them exceptionally safe, comfortable and easy to fly whilst allowing the pilot to use weight shift and be as dynamic as they want. The Maverick, V3 and Zenith models are the latest in Paramotor design and can be fitted with a variety of different engines. In the school we use the Parajet V3 fitted with the Vittorazi Moster 185+. This combination is ideal for Pilots weighing between 75kgs and 120kgs. For lightweight pilots we recommend the Parajet Maverick with the Vittorazi Atom 80. For further information contact us.

Ozone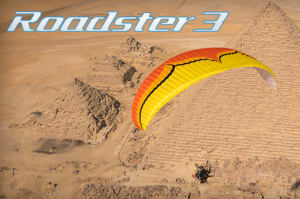 Ozone are renowned for their high quality and attention to detail. SkySchool uses the Ozone Spark in the school and recommends the Ozone Roadster 3 to students who have completed their training. The Roadster 3, with it's semi reflex shark nose technology, is very easy to launch and land, extremely stable in flight and has a good speed range, making it the ideal wing for beginners and intermediates. For further information contact us.

Niviuk

Niviuk have developed a wide range of Paragliding and Paramotoring wings, all of which are made using the best material and under stringent quality control standards. The finished products are gliders offering safety, performance, high stability and superb handling. The name Niviuk is derived from the Inuit saying: "Niviuk Nactuk", which translated means: "Give attention to small details to make big things happen". We use the Niviuk Koyot 3 in the school. For further information contact us.

Accessories
SkySchool distributes a wide variety of accessories for both Paramotoring and Paragliding. These include helmets, headsets, harnesses, reserves, varios and more. For further information about Parajet, Ozone, Niviuk and the accessories we distribute contact SkySchool