AirSports Consultancy
Our many years of experience in the Adventure AirSports industry has led to our involvement in a variety of unique and exciting projects around the world. We specialise in the following: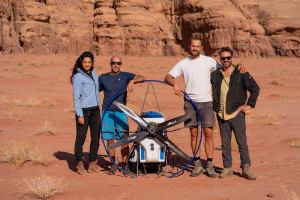 Consulting, Equipping and Staffing new Paramotoring, ParaTriking and Paragliding Centres
Managing Adventure AirSports Expeditions, TV Documentaries and Events
Running APPI Power Instructor Workshops
If you require our expertise contact us.

Previous Projects and Adventures
In 2021 SkySchool consulted, staffed, equipped and managed an Expedition featuring Electric Paramotors for a TV Documentary in Saudi Arabia's newly created region of NEOM.
In 2021 SkySchool supported Alex Ledger and George Bullard during their 630 mile run along the South West Coast Path, during which they raised more than £15,000 for 3 different charities. The one rule during was that when it was flyable they would stop running and go flying!
In 2020 SkySchool taught British Explorer Levison Wood how to Paraglide and Paramotor in Chamonix, France. After this he joined us on the D-Day Trip in 2020 and the NEOM Expedition in 2021.
In 2018 Alex Ledger climbed and paraglided off Mt Blanc with Steve Shanly as his tandem passenger.
In 2018 SkySchool ran an APPI PPG Instructor Workshop for the Royal Aeronautic Sports Association of Thailand.
In 2017 SkySchool taught ex Welsh International Rugby player Richard Parks how to fly before leading him on an epic Paramotoring adventure in Wales for a BBC series called Extreme Wales with Richard Parks.
In 2016 SkySchool helped set up, staff and equip Oman's first ever Paramotor School and Tandem Centre.
In July 2016 SkySchool led a team of pilots, including double amputee Cayle Royce, on the record breaking 1200km Expedition flying from John O'Groats to Lands End.
In 2015 SkySchool helped run the inaugural Icarus Trophy, a 1000km Paramotor Race from Seattle to Sacramento. We ended up training 10 people to fly and then acted Safety Consultants during the race.
In 2014 SkySchool founded Flying for Heroes, which involved teaching Wounded, Injured and Sick Military Personnel how to fly ParaTrikes . Once trained we lead them on a once in a lifetime expedition up the Rift Valley in Kenya.
In 2013 SkySchool set up and equipped Skydive Dubai's new Paramotor School.
In 2013 Alex Ledger acted as a local guide for a film trip in Pyrenees to promote a new car from SEAT.
In 2009 SkySchool instructed Neil Laughton on his First Solo Flight in the Parajet SkyCar, which featured in the Channel 4 Series Daredevils.
In 2006 SkySchool featured in the Discovery Channel series Martin Shaw Aviators promoting the future of Paramotoring.